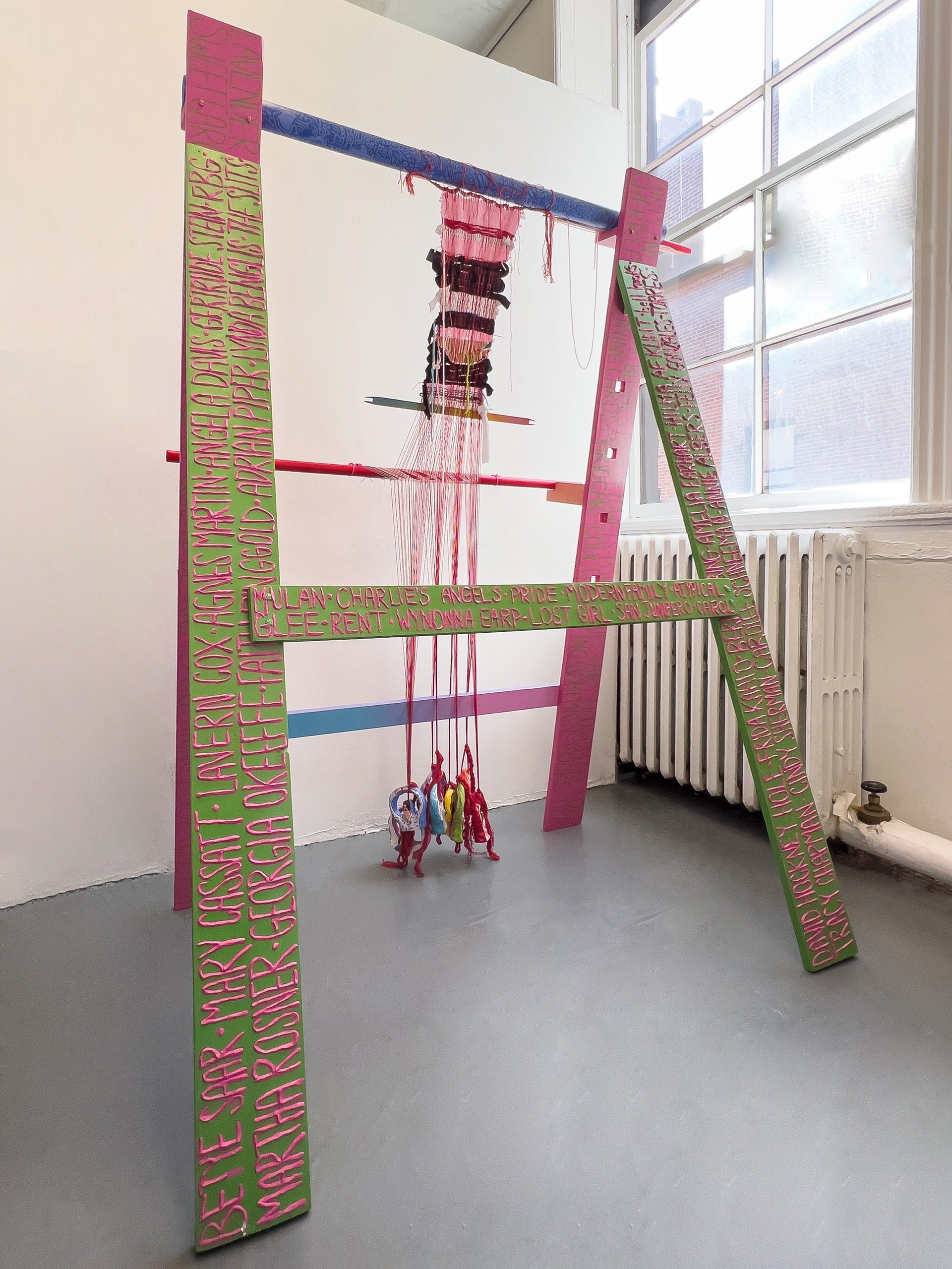 The warp-weighted loom is a medieval, lost practice historically used by Northern European women to hand-weave cloth. I have created a contemporary, queer, feminist reading of this loom—the result of which is a living, functional sculpture that also acts as an autobiographical object. 
I considered the role of each aspect of the loom and used it as the conceptual framework for my aesthetic decisions: the heddle bar is painted with heat-sensitive pigment as it is the most touched part of the loom; the front uprights have two-word phrases of comfort written in 3D text while the back uprights highlight the names of people/media that have impacted my relationship to queerness and/or gender; the shed bar is painted with a blue/pink gradient, referencing the many binaries discussed in this project (the natural/artificial shed, the warp/weft, the gender binary, and fine art/craft); the cloth beam has intentional stream-of-consciousness illustrations to infuse each textile; eight loom weights hang at the bottom of the loom to create tension in the warp, each of which is a portrait of an important woman in my life that has grounded me. 
Being woven on the loom is an in-process tapestry. Past, present, and future timelines intersect as the product the loom makes is equally important as the loom is making art objects while simultaneously being made itself, directly referencing process and dismantling the binary concept of artwork being in-process or 'finished.' 
My relationship to queerness and gender, coupled with my Norwegian and Celtic heritage, led me to decide on this specific loom as an object of study as these histories are geographically and conceptually interconnected. I investigate the origins of these histories and material connotations and then intentionally recognize, reimagine, and subvert them through visual means. 
In this research, I have been specifically exploring the history of the materiality of craft, textile arts, and decorative arts at large, specifically concerning queerness and feminist thought. I am looking at the history of these materials on a personal and collective scope, specifically their connotations and how those implications have come to be. I investigate these histories, collecting and annotating them in this research binder alongside sketches, notes, and art historical references.